What could the next 2.5 years of Asset Management marketing look like?
Andrew Golding
Chief Strategy Officer
Most investment marketers are looking ahead with uncertain eyes. Bull gone bear, inflation, interest rates, political shifts, war in Europe and more. There's certainly a lot to plan for.
In addition to this, many also know only too well that right now their firms face a rapidly shifting landscape where many traditional products, tools and approaches no longer seem as appropriate or effective as they once were. Technology, innovation, client centricity and, of course, sustainability are all big on the agenda.
From a marketing perspective, our industry has begun to mature and fast
A fundamental desire to shift to take a positive societal role has remained at large for most
The ESG movement is by its very nature, making our industry much more accessible
People anywhere can now connect and relate to the investments being made and understand why certain companies are selected over others. This transition is humanising an industry that prior to this has remained a 'dark art or science'.
SO, WHAT DOES THE IMMEDIATE FUTURE LOOK LIKE?
Firstly, we all know we're entering an uncertain time, and the markets look more like they are ready to hibernate than be bullish. As a result, there will be a natural tightening of budgets by many and squeezing of the efficiency sponge wherever possible. Naturally, this means that from a marketing perspective many will exchange a smaller share of voice for the safety net of keeping those further up the chain more secure. However, those more circumspect and perhaps more considered firms will look at this moment as an opportunity to increase their share of voice and rise. 
Looking at all the insights available from McKinsey, Accenture and other reports, client exposure and continuing dialogue within the industry, I firmly believe that ESG will no longer be an edge for firms in their marketing unless it's executed very differently to how it looks today. Some are recognising the shift and are moving their narratives forward. 
However, it is ESG and the whole sustainability piece that is providing an opportunity to move on to the next generation of investment brand positionings, where the complex underlayers are removed. While this poses a challenge, the transparency of behaviour and simplicity of language will remove some of the layers within the veil of 'science' to investment management. This is an opportunity to bring our industry closer to the world.
ESG will no longer be an edge for firms in their marketing unless it's executed very differently to how it looks today.
THE TRANSITION WE EXPECT TO SEE INCLUDES:
High levels of relevancy to the audience
Tailored and targeted content that touches on the absolute areas of their dialogue, interest areas, prior engagement histories and brand associations.
Get seen by the 'Scroll-Blind' generation
Creating innovative and impactful content that breaks out from the convention to wake and engage the 'Scroll-Blind' audiences.
Channel and platform extension is something that will rise over the next 18 months, posing a challenge to the now conventional platforms while creating opportunities for new ones and those adopting them.
Media platform innovations
Innovations from publications which just preceded Covid, were the digital partnerships, offered by some publishers, ranging from video, events and sponsored content.
Knowing what investors and intermediary audiences are seeking and then answering that brief, is where the industry has some ground to make up, certainly when compared to other sectors.
One of the greatest shifts that's here already, and will grow massively over the next 3 years is moving from outbound messaging and push campaigning to a more intelligent, data-driven model. The adage of 'Listen and Respond', versus the convention of simply 'Broadcast', is something the industry is, in a minority of cases, grappling with now. 
This is where things can and eventually will shape up. 
I believe 'hyper-relevant client engagement models and experiences' will definitely come to the fore
More than 50% of B2B sales decisions are made before meeting the salesperson.
Understanding what clients and distribution partners are truly interested in, what they engage with most and why, is about deepening the knowledge of our audiences. Using multiple data sources, we can overlay insights to ensure that we are delivering much more relevant communications for improved engagement. This is nothing new. Yet, few are fully capitalising on the available data to drive more relevant and thus improved client journeys.
Overlaying search, social platform, CRM as well as wider and deeper intelligence sources allows us to listen to what the market and our audience are truly interested in and what their needs are. This will enable us to reach and engage them with more relevant communications in the future.
The result of this is putting what the client wants into our engagement and client experiences tools, to ensure we provide a relevant solution to their needs. In doing so, brands will become much more useful, connected and in turn, relevant to audiences, securing their place. More than that, this heightened level of personalisation increases brand and digital trust.
HOW IT WORKS: THE PROCESS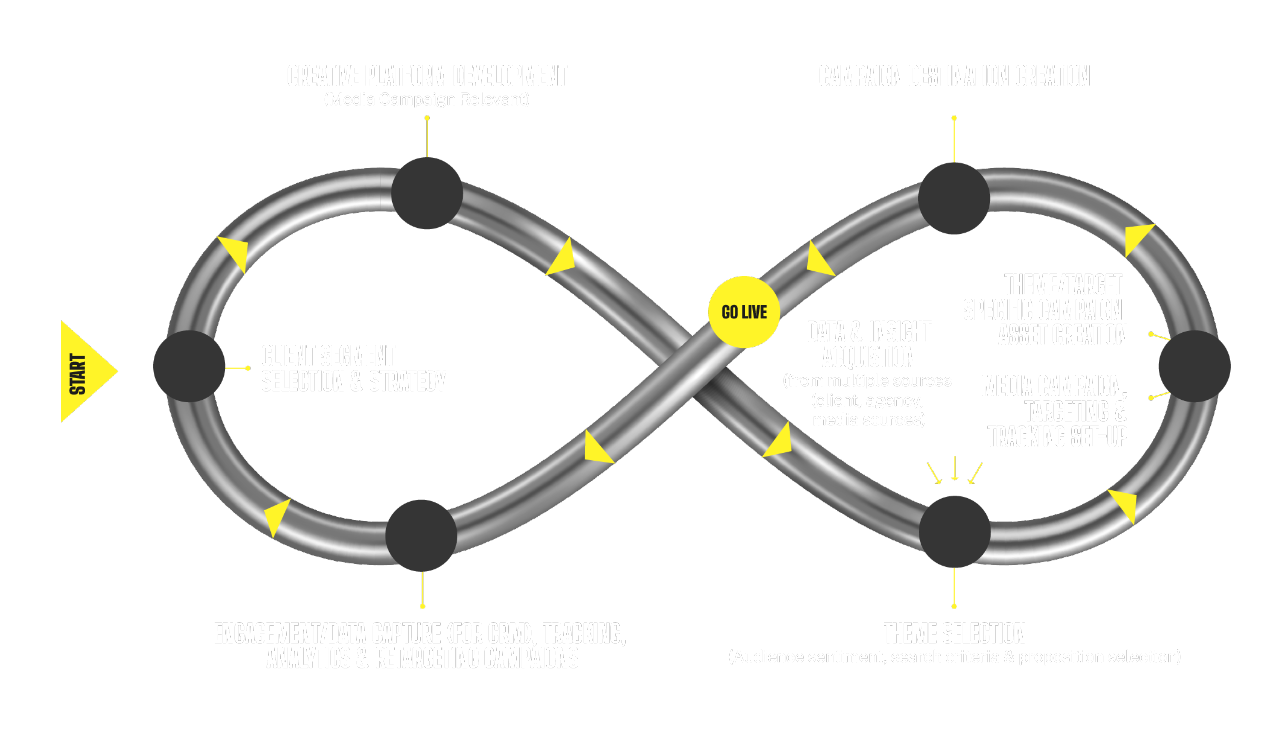 From our perspective, the opportunity is for investment brands to listen to their audiences through the multiple data inputs and rapidly deploy highly targeted and hyper-relevant messages and campaigns in a timely fashion, showing they are in tune with their clients' and audiences' attitudes and needs – not simply broadcasting what firms feel is important to push.
KEEPING THE RELEVANCY, ALL THE WAY
This is about the full journey. It starts with hyper-relevant campaigns and communications that put the clients' needs front and centre, and then beyond this into the destinations and client portals that become their touchpoint with the brand. Client campaign destinations are not the end of the journey but from a front-end part of the process, vital. These digital destinations must maintain this high level of personalisation, whether they are institutional clients, intermediaries, or end investors. So, whatever is seen in the campaign activations, is what gets served in the user destination (obviously) but it also continues deeper into their interactions beyond that.
This means more intelligent insight-driven client environments and portals that can adapt to the different degrees of personalisation or relevancy for the audience, something we're heavily involved in innovating.
According to Accenture some 29% of firms are changing their distribution channels through increased emphasis on growing the direct-to-investor retail channel
By better knowing their interest points and responding quickly, you can really harness the potency of relevance, with the potential to enable faster transitions to distribution.
WHAT DOES ASSET MANAGEMENT MARKETING LOOK LIKE BY 2025?
From what I see and experience with our clients and conversations, there's absolutely no doubt that a technology transition will drive more relevant, client-focused models and will play a significant part in the next two and half years. It's all about becoming more putting audiences at the centre of all our efforts across the engagement and experience process and journey. And, with all the evidence around it, hyper-relevancy will be key to this transition for the industry – something we're very much supporting.
With ESG and sustainability still leading the dialogue, brands are on a runway to becoming more accessible, so long as they become more open in their dialogue with the markets, build real authenticity in every story and action they make and take.
Investment firms will have to continue to evolve, becoming braver and smarter in their use of marketing activations, and their brands much more human and relevant, than ever before. In doing this, the industry will increase its relevance and importance in everyone's lives, building on a renewed sense of purpose – one which is key for so much of the world's progress to a better place.